Cremation Lots, Scattering and Burial Options
Cremation Lots and Options
Many feel that the cremated remains of someone they loved should have a special place that can be identified with their name and dates. View the many options offered at the Lakefield Cemetery.
Please see out many options below:
Adult Grave Space
Cremated remains may be interred in a family plot where a burial has previously taken place. Permission must be obtained from the current Interment Rights Holder and any type of memorialization is limited by the markers already on the plot.
Interment Rights may also be purchased for an adult grave space to be used for cremated remains. The number of cremations allowed in an adult grave is regulated by our cemetery by-laws, as well as the sizes and types of markers.
Single and Double Cremation Plots
In-ground cremation plots for one or two urns are available with a variety of memorialization options. Each plot has enough room to place a 12″x12″ flat marker.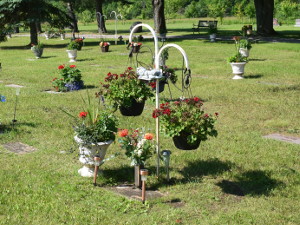 Family Cremation Plots
An area between the Columbarium and the Lectern has been designated for interring cremains. Each plot can accommodate up to four urns, with enough room to place a flat marker up to 14″x36″.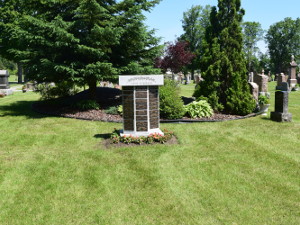 Columbarium Niches
Many families have told us that they prefer above ground niches because they are more visible and can cost less than an upright monument. Landscaped with garden features and surrounded by mature maple trees, we are pleased to offer these areas as a quiet place for reflection.
The face of each columbarium has four rows of niches. The niches are sealed with polished granite which highlights the bronze marker that is used for memorialization. Up to two urns can be placed into each niche. An optional bronze vase holder, with removable vase, can also be purchased to place a small floral bouquet.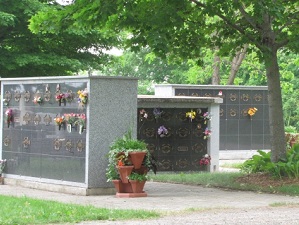 Maple Glen Columbarium Niches
This five structure columbarium feature will be developed over time. The foundations are in place and the center 96 niche columbarium is now completed. This center columbarium was constructed with half of the niches being regular sized for standard sized urns, and half being oversize niches for larger urns. Each niche is designed to hold up to two urns, and is individually sealed in polished granite which highlights the bronze marker used for memorialization.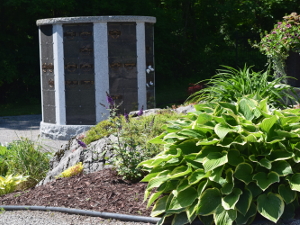 Garden Of Memories Scattering Garden
Cremated remains may be scattered in this beautifully landscaped garden. If requested, an urn can be provided for the scattering and keepsakes are also available at the Cemetery Office. A bronze plaque can be placed on the lectern for memorialization.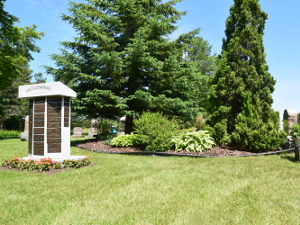 Water Feature Garden
The area around the Water Feature Garden has a limited number of in-ground cremation lots for one or two urns. The feature granite boulders are from the Belmont Rose Quarry in Havelock.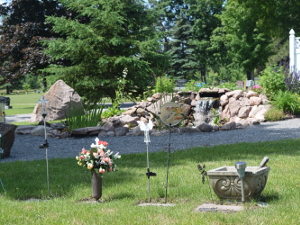 Price List
Please note: 
Prices are subject to change
Complete Price List available upon request
Prices effective January 1, 2017
In-Ground Cremation Plots
| | | | | | | |
| --- | --- | --- | --- | --- | --- | --- |
|   |   | Single and Double |   | Pond Garden |   | Family |
| Size |   | 16in x 16in |   | 18in x 18in |   | 1m x 1m |
| Lot |   | 270.00 |   | 330.00 |   | 450.00 |
| C&M Fund |   | 180.00 |   | 220.00 |   | 300.00 |
| HST |   | 58.50 |   | 71.50 |   | 97.50 |
| Total* |   | 508.50 |   | 621.50 |   | 847.50 |
* Plus cost of marker
Cremation Interment
Prices include 13% HST
| | | |
| --- | --- | --- |
| Earh Burial of the urn |   | $367.25 |
| Weekend/Holiday Surcharge |   | $197.75 |
Columbarium Niches
Prices include 13% HST
| | | | | |
| --- | --- | --- | --- | --- |
|   |   | Structure 3 |   | Structure 1 or 2 |
| Size |   | 12in x 12in x 12in |   | 12in x 12in x 12in |
| Top 2 Rows |   | N/A |   | N/A |
| Row 3 |   | N/A |   | 2434.02 |
| Row 4 |   | 2186.55 |   | 2245.31 |
Maple Glen Center Structure
| | | | | |
| --- | --- | --- | --- | --- |
| Size |   | 12in x 12in x 12in |   | 12in x 12in x 16in |
| Top 2 Rows |   | 2872.46 |   | 3058.91 |
| Middle 2 Rows |   | 2657.76 |   | 2845.34 |
| Bottom 2 Rows |   | 2443.06 |   | 2603.52 |
Cremation Inurnment
Prices include 13% HST
| | | |
| --- | --- | --- |
| Opening and Closing of Niche |   | $339.00 |
| Weekend/Holiday Surcharge |   | $197.75 |
Garden of Memories
Scattering Garden
Cost to scatter $339.00
Includes use of Scattering Urn