Memorials can be purchased at the Lakefield Cemetery and can be designed as upright or flat. Upright memorials or monuments are made of granite, and come in a variety of shapes, designs and colours. Each upright memorial is designed with a granite base and is installed on a concrete foundation to ensure stability in the cemetery. Flat memorials come in a variety of designs and colours and are made of granite or bronze. Flat memorials are installed flush with the ground to protect the integrity of the memorial.
Our staff looks forward to guiding you through the design process to create a fitting tribute that is respectful of your budget and that will be as unique as the life and personality of your loved one to be remembered. During the design process a sketch will be provided for your approval before work begins to assure correct lettering and design.
Browse through monument and flat marker designs, and the different granite colours available: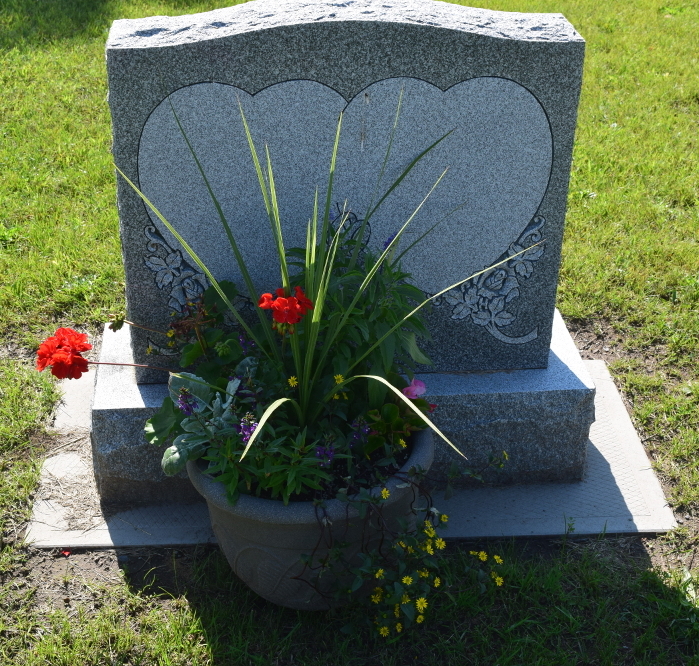 See the materials used to create the monuments and markers below:
Granite is considered the standard material for most memorials in North America because of its ability to withstand the tests of time and climate. Here at the Lakefield Cemetery we work with granite memorial companies to ensure your memorial is only made of high quality granite that will maintain its beauty and integrity for years to come. We offer a wide range of colorful granites from greys, to pinks, to blacks, browns and reds that are quarried around the world from right here in Ontario to South Africa.
Bronze is often referred to as the eternal metal. Diecast bronze memorials are made up of a mixture of copper, tin and other trace metals, since iron is not a component of this metal mixture, your memorial will never rust. Overtime exposed to the elements bronze memorials may patina, becoming a greenish blue color like the Statue of Liberty. This patina only serves to protect the surface of the memorial and does not diminish your memorials beauty. Bronze memorials that have patina can be refinished to restore them to their previous look.
Although these materials once were favored by stone artisans for cemetery memorials, marble and limestone have shown they do not withstand the tests of time in our climate. Memorials made of marble and limestone slowly erode becoming hard to read or completely illegible, they are also highly sensitive to cracking and breaking. That is why we do not recommend memorials to be made of these materials.
Why Buy from Your Cemetery?
There are many factors involved with memorialization that only your Cemetery can take into consideration.
One factor is the size and placement of memorials to assure memorials do not interfere with future interments or become a maintenance problem.
The lot location in the Cemetery may have restrictions for the size and number of monuments and markers permitted on that lot. Your cemetery is the best source of direction on how to best utilize the memorial, assuring there is enough room on the stone to accommodate all names, making your purchase cost effective.
Revenues generated from the sale of monuments and inscriptions are used to beautify and help maintain your Cemetery.