The Lakefield Cemetery partnered with Maple Leaves Forever, a charitable foundation whose mission is to advocate and support the planting of truly native Maple Trees across the Canadian landscape. The Memorial Walkway is lined with 27 native Canadian Sugar Maples and 27 native Canadian Red Maples in the Sunset Meadow section. Lots are available in close proximity.
Contact the Lakefield Cemetery Office to arrange to have one of these trees dedicated with a permanent plaque in memory of a loved one and leave a legacy for future generations.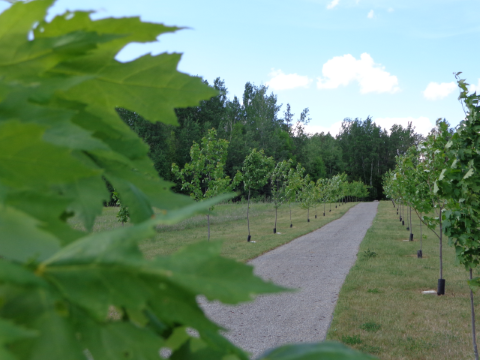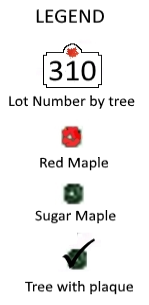 Your choice of tree from an available location: $200 + $26 HST = $226.00
The Plaque is designed to have a maximum 4 lines of text. The number of letters in each line will determine the size of the text that can be used.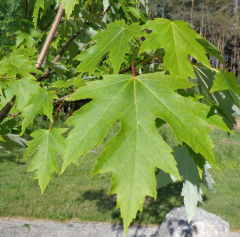 Red Maple
(Swamp maple, Soft Maple)
Acer Rubrum
Red maple has one of the largest ranges amongst the maples. Its range covers most of eastern North America. Due to its dense crown (denser than sugar maple) it makes an excellent shade tree in ones yard or street. Year round the red maple brings some color to the landscape with it various red components. The twigs, buds, flowers, immature fruits, leaf stalks, and autumn leaves are usually bright red.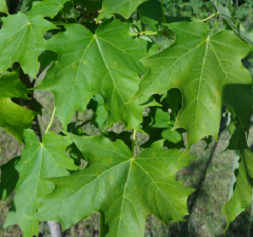 Sugar Maple
(Hard Maple, Rock Maple)
Acer Saccharum
Our national symbol and the centre of our Canadian flag is a stylish drawing of the sugar maple's leaf. In the spring, the sap of the sugar maple (sometimes known as sweet water) is collected and processed resulting in maple syrup and sugar. 40 litres of sap are required for 1 litre of syrup. Sugar maples are popular for shade, and ornamental plantings. The colours of the foliage are so spectacular that the tourist industry promotes bus tours of maple regions.
Interested in Memorial Trees?