Artificial Flowers and Wreaths
Silk floral saddles and wreaths are available for purchase all year through the Cemetery Office. Other colour variations, seasonal, and custom requests may be accommodated contact the office to confirm availability.
Browse through the silk floral arrangements offered:
Monument Saddles are allowed to remain on the monument year round. However, when the saddle shows signs of deterioration, it will be removed so it will not detract from the general appearance of the Cemetery.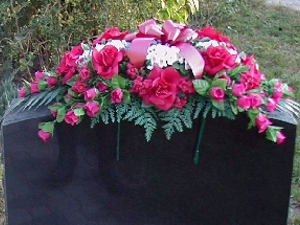 These saddles are made with silk flowers, securely attached to an adjustable green metal frame that clips to the top of upright monuments 4″ – 8″ thick
Simply click on the picture for a larger rendering. Stocked items and prices are subject to change.
Winter wreaths may be placed by the marker, secured to a wreath stand, after October 15th but must be removed by April 1st. Wreaths remaining after April 1st will be removed by Cemetery Staff.